The sixth edition of the ODI World Cup saw the matches being played in three different countries of the world, namely India, Pakistan and Sri Lanka. Stretching on from 16th February to 17th March 1996, the tournament was also known as Wills World Cup (after the official sponsor). It comprised of 37 matches, with 17 being played in India, 14 in Pakistan and 6 in Sri Lanka. The 12 participants included Sri Lanka, Australia, India, West Indies, Zimbabwe, Kenya, South Africa, Pakistan, New Zealand, England, UAE and Netherlands.
The sixth ICC Cricket World Cup saw the debut of United Arab Emirates, the Netherlands and Kenya. Australia and Sri Lanka were the two teams that finally went to the finals. In the last match, played between the two teams, Sri Lanka managed to defeat Australia by 7 wickets. With this, history was created, since it was the first time that the tournament was won by a host or co-host. Aravinda de Silva won the '
Man of the Match
', while '
Man of the Series
' went to Sanath Jayasuriya. Sachin Tendulkar scored the maximum number of runs (523), while Anil Kumble went home as the highest wicket-taker (with 15 wickets in hand).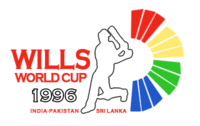 1996 Wills World Cup statistics
Administrator - International Cricket Council
Cricket format - One Day International
Tournament formats - Round robin and Knockout
Hosts - India, Pakistann and Sri Lanka
Champions - Sri Lanka (1st title)
Participants - 12
Matches played - 37
Most runs - Sachin Tendulkar (523)
Most wickets - Anil Kumble (15)
Player of the series - Sanath Jayasuriya (Sri Lanka)
Results Summary
1st Match: England v New Zealand at Ahmedabad - Feb 14, 1996, New Zealand won by 11 runs (New Zealand 239/6; England 228/9)
2nd Match: South Africa v United Arab Emirates at Rawalpindi - Feb 16, 1996, South Africa won by 169 runs (South Africa 321/2; United Arab Emirates 152/8)
3rd Match: West Indies v Zimbabwe at Hyderabad (Deccan) - Feb 16, 1996, West Indies won by 6 wickets (with 20.3 overs remaining) (Zimbabwe 151/9; West Indies 155/4)
4th Match: Netherlands v New Zealand at Vadodara - Feb 17, 1996, New Zealand won by 119 runs (New Zealand 307/8; Netherlands 188/7)
5th Match: Sri Lanka v Australia at Colombo (RPS) - Feb 17, 1996, Sri Lanka won (walkover without a ball bowled)
6th Match: India v Kenya at Cuttack - Feb 18, 1996, India won by 7 wickets (with 8.1 overs remaining) (Kenya 199/6; India 203/3)
7th Match: England v United Arab Emirates at Peshawar - Feb 18, 1996, England won by 8 wickets (with 15 overs remaining) (United Arab Emirates 136; England 140/2)
8th Match: New Zealand v South Africa at Faisalabad - Feb 20, 1996, South Africa won by 5 wickets (with 12.3 overs remaining) (New Zealand 177/9; South Africa 178/5)
9th Match: Sri Lanka v Zimbabwe at Colombo (SSC) - Feb 21, 1996, Sri Lanka won by 6 wickets (with 13 overs remaining) (Zimbabwe 228/6; Sri Lanka 229/4)
10th Match: India v West Indies at Gwalior - Feb 21, 1996, India won by 5 wickets (with 10.2 overs remaining) (West Indies 173; India 174/5)
11th Match: England v Netherlands at Peshawar - Feb 22, 1996, England won by 49 runs (England 279/4; Netherlands 230/6)
12th Match: Australia v Kenya at Visakhapatnam - Feb 23, 1996, Australia won by 97 runs (Australia 304/7; Kenya 207/7)
13th Match: Pakistan v United Arab Emirates at Gujranwala - Feb 24, 1996, Pakistan won by 9 wickets (with 15 overs remaining) (United Arab Emirates 109/9 (33/33 ov); Pakistan 112/1 (18/33 ov)
14th Match: England v South Africa at Rawalpindi - Feb 25, 1996, South Africa won by 78 runs (South Africa 230; England 152)
15th Match: Sri Lanka v West Indies at Colombo (RPS) - Feb 25, 1996, Sri Lanka won (walkover without a ball bowled)
16th Match: Kenya v Zimbabwe at Patna - Feb 26, 1996, No result (Zimbabwe 45/3)
17th Match: Pakistan v Netherlands at Lahore - Feb 26, 1996, Pakistan won by 8 wickets (with 16.4 overs remaining) (Netherlands 145/7; Pakistan 151/2)
18th Match: New Zealand v United Arab Emirates at Faisalabad - Feb 27, 1996, New Zealand won by 109 runs (New Zealand 276/8 (47 ov); United Arab Emirates 167/9 (47 ov)
19th Match: India v Australia at Mumbai - Feb 27, 1996, Australia won by 16 runs (Australia 258; India 242)
20th Match: Kenya v West Indies at Pune - Feb 29, 1996, Kenya won by 73 runs (Kenya 166; West Indies 93)
21st Match: Pakistan v South Africa at Karachi - Feb 29, 1996, South Africa won by 5 wickets (with 5.4 overs remaining) (Pakistan 242/6; South Africa 243/5)
22nd Match: Australia v Zimbabwe at Nagpur - Mar 1, 1996, Australia won by 8 wickets (with 14 overs remaining) (Zimbabwe 154; Australia 158/2)
23rd Match: Netherlands v United Arab Emirates at Lahore - Mar 1, 1996, United Arab Emirates won by 7 wickets (with 5.4 overs remaining) (Netherlands 216/9; United Arab Emirates 220/3)
24th Match: India v Sri Lanka at Delhi - Mar 2, 1996, Sri Lanka won by 6 wickets (with 1.2 overs remaining) (India 271/3; Sri Lanka 272/4)
25th Match: Pakistan v England at Karachi - Mar 3, 1996, Pakistan won by 7 wickets (with 2.2 overs remaining) (England 249/9; Pakistan 250/3)
26th Match: Australia v West Indies at Jaipur - Mar 4, 1996, West Indies won by 4 wickets (with 1.1 over remaining) (Australia 229/6; West Indies 232/6)
27th Match: Netherlands v South Africa at Rawalpindi - Mar 5, 1996, South Africa won by 160 runs (South Africa 328/3; Netherlands 168/8)
28th Match: Sri Lanka v Kenya at Kandy - Mar 6, 1996, Sri Lanka won by 144 runs (Sri Lanka 398/5; Kenya 254/7)
29th Match: India v Zimbabwe at Kanpur - Mar 6, 1996, India won by 40 runs (India 247/5; Zimbabwe 207)
30th Match: Pakistan v New Zealand at Lahore - Mar 6, 1996, Pakistan won by 46 runs (Pakistan 281/5; New Zealand 235)
1st Quarter Final: England v Sri Lanka at Faisalabad - Mar 9, 1996, Sri Lanka won by 5 wickets (with 9.2 overs remaining) (England 235/8; Sri Lanka 236/5)
2nd Quarter Final: India v Pakistan at Bangalore - Mar 9, 1996, India won by 39 runs (India 287/8; Pakistan 248/9)
3rd Quarter Final: South Africa v West Indies at Karachi - Mar 11, 1996, West Indies won by 19 runs (West Indies 264/8; South Africa 245)
4th Quarter Final: Australia v New Zealand at Chennai - Mar 11, 1996, Australia won by 6 wickets (with 2.1 overs remaining) (New Zealand 286/9; Australia 289/4)
1st Semi Final: India v Sri Lanka at Kolkata - Mar 13, 1996, Sri Lanka won by default (Sri Lanka 251/8; India 120/8 in 34 ov)
2nd Semi Final: Australia v West Indies at Mohali - Mar 14, 1996, Australia won by 5 runs (Australia 207/8; West Indies 202)
Final: Australia v Sri Lanka at Lahore - Mar 17, 1996, Sri Lanka won by 7 wickets (with 3.4 overs remaining) (Australia 241/7; Sri Lanka 245/3)