The third edition of the ICC World Cup was played in 1983 and continued to be known as the Prudential Cup. Once again witnessing the country of England playing as the host, the tournament was played over a period of 17 days, from June 9 to June 25. The number of teams participating in the event continued to be eight, comprising of England, Pakistan, New Zealand, Sri Lanka, West Indies, India, Australia, and Zimbabwe. The format comprised of Round Robin and Knock-out, with 27 matches being played in total (played during the day and comprising of 60 overs per team).
The preliminary matches of the 3rd ODI World Cup were played in two groups, each comprising of four teams. All the teams in a group had to play with each other twice, with the two top teams qualifying for the semi-finals. England, Pakistan, India and West Indies qualified for the semifinals, with the Indian team emerging as the winner in the final match. With this, India registered its first win in the ICC World Cup. Amarnath, the most economical bowler of the match, was awarded the '
Man of the Match
'. In the tournament, the most runs were taken by David Gower (384) and the maximum wickets were claimed by Roger Binny (18).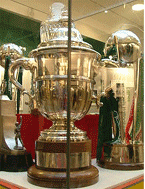 1983 Prudential World Cup statistics
Administrator - International Cricket Council
Cricket format - One Day International
Tournament formats - Round robin and Knockout
Host - England
Champions - India (1st title)
Participants - 8
Matches played - 27
Attendance - 232,081 (8,596 per match)
Most runs - David Gower (384)
Most wickets - Roger Binny (18)
Results Summary
1st Match: England v New Zealand at The Oval - Jun 9, 1983, England won by 106 runs (Eng 322/6; NZ 216)
2nd Match: Pakistan v Sri Lanka at Swansea - Jun 9, 1983, Pakistan won by 50 runs (Pak 338/5; SL 288/9)
3rd Match: Australia v Zimbabwe at Nottingham - Jun 9, 1983, Zimbabwe won by 13 runs (Zim 239/6; Aus 226/7)
4th Match: India v West Indies at Manchester - Jun 9-10, 1983, India won by 34 runs (Ind 262/8; WI 228)
5th Match: England v Sri Lanka at Taunton - Jun 11, 1983, England won by 47 runs (Eng 333/9; SL 286)
6th Match: New Zealand v Pakistan at Birmingham - Jun 11-12, 1983, New Zealand won by 52 runs (NZ 238/9; Pak 186)
7th Match: Australia v West Indies at Leeds - Jun 11-12, 1983, West Indies won by 101 runs (WI 252/9; Aus 151)
8th Match: India v Zimbabwe at Leicester - Jun 11, 1983, India won by 5 wickets (with 22.3 overs remaining) (Zim 155; Ind 157/5)
9th Match: England v Pakistan at Lord's - Jun 13, 1983, England won by 8 wickets (with 9.2 overs remaining) (Pak 193/8; Eng 199/2)
10th Match: New Zealand v Sri Lanka at Bristol - Jun 13, 1983, New Zealand won by 5 wickets (with 20.4 overs remaining) (SL 206; NZ 209/5)
11th Match: Australia v India at Nottingham - Jun 13, 1983, Australia won by 162 runs (Aus 320/9; Ind 158)
12th Match: West Indies v Zimbabwe at Worcester - Jun 13, 1983, West Indies won by 8 wickets (with 11.3 overs remaining) (Zim 217/7; WI 218/2)
13th Match: England v New Zealand at Birmingham - Jun 15, 1983, New Zealand won by 2 wickets (with 1 ball remaining) (Eng 234; NZ 238/8)
14th Match: India v West Indies at The Oval - Jun 15, 1983, West Indies won by 66 runs (WI 282/9; Ind 216)
15th Match: Pakistan v Sri Lanka at Leeds - Jun 16, 1983, Pakistan won by 11 runs (Pak 235/7; SL 224)
16th Match: Australia v Zimbabwe at Southampton - Jun 16, 1983, Australia won by 32 runs (Aus 272/7; Zim 240)
17th Match: England v Pakistan at Manchester - Jun 18, 1983, England won by 7 wickets (with 2.4 overs remaining) (Pak 232/8; Eng 233/3)
18th Match: New Zealand v Sri Lanka at Derby - Jun 18, 1983, Sri Lanka won by 3 wickets (with 7.1 overs remaining) (NZ 181; SL 184/7)
19th Match: Australia v West Indies at Lord's - Jun 18, 1983, West Indies won by 7 wickets (with 2.1 overs remaining) (Aus 273/6; WI 276/3)
20th Match: India v Zimbabwe at Tunbridge Wells - Jun 18, 1983, India won by 31 runs (Ind 266/8; Zim 235)
21st Match: England v Sri Lanka at Leeds - Jun 20, 1983, England won by 9 wickets (with 35.5 overs remaining) (SL 136; Eng 137/1)
22nd Match: New Zealand v Pakistan at Nottingham - Jun 20, 1983, Pakistan won by 11 runs (Pak 261/3; NZ 250)
23rd Match: Australia v India at Chelmsford - Jun 20, 1983, India won by 118 runs (Ind 247; Aus 129)
24th Match: West Indies v Zimbabwe at Birmingham - Jun 20, 1983, West Indies won by 10 wickets (with 14.5 overs remaining) (Zim 171; WI 172/0)
1st Semifinal: England v India at Manchester - Jun 22, 1983, India won by 6 wickets (with 5.2 overs remaining) (Eng 213; Ind 217/4)
2nd Semifinal: Pakistan v West Indies at The Oval - Jun 22, 1983, West Indies won by 8 wickets (with 11.2 overs remaining) (Pak 184/8; WI 188/2)
Final: India v West Indies at Lord's - Jun 25, 1983, India won by 43 runs (Ind 183; WI 140)