The second ICC World Cup was organized in the year 1979 and saw England playing the host once again. The tournament stretched on from June 9 to June 23, following the same format as the first World Cup. In total, eight teams played in the tournament, which were divided into two groups (with four teams each). The teams comprised of all the six test-playing nations (Australia, England, India, New Zealand, Pakistan and the West Indies), along with Sri Lanka and Canada. From each group, the two top teams progressed to the semi-finals, with the winners competing against each other in the final match.
The 2nd ODI World Cup also comprised of 60 overs per team. The players were seen wearing the traditional white clothing, while the red balls were used for bowling. Again, the concept of day and night matches was not present, with both the innings being played in the daytime. Also known as the Prudential Cup, the tournament saw the West Indies team defeating Pakistan in the finals, by 92 runs and registering their second win. Vivian Richards was declared '
Man of the Match
', while there was no '
Man of the Series
'. The most runs were taken by Gordon Greenidge (253), while most wickets claimed by Mike Hendrick (10).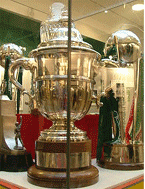 1979 Prudential World Cup statistics
Administrator - International Cricket Council
Cricket format - One Day International
Tournament formats - Round robin and Knockout
Host - England
Champions - West Indies (2nd title)
Participants - 8
Matches played - 15
Attendance - 132,000 (8,800 per match)
Most runs - Gordon Greenidge (253)
Most wickets - Mike Hendrick (10)
Results Summary
1st Match: India v West Indies at Birmingham - Jun 9, 1979, West Indies won by 9 wickets (with 8.3 overs remaining) (Ind 190 ; WI 194/1)
2nd Match: New Zealand v Sri Lanka at Nottingham - Jun 9, 1979, New Zealand won by 9 wickets (with 12.2 overs remaining) (SL 189; NZ 190/1)
3rd Match: England v Australia at Lord's - Jun 9, 1979, England won by 6 wickets (with 12.5 overs remaining) (Aus 159/9; Eng 160/4)
4th Match: Canada v Pakistan at Leeds - Jun 9, 1979, Pakistan won by 8 wickets (with 19.5 overs remaining) (Can 139/9; Pak 140/2)
5th Match: Sri Lanka v West Indies at The Oval - Jun 13-15, 1979, Match abandoned without a ball bowled
6th Match: India v New Zealand at Leeds - Jun 13, 1979, New Zealand won by 8 wickets (with 3 overs remaining) (Ind 182; NZ 183/2)
7th Match: Australia v Pakistan at Nottingham - Jun 13-14, 1979, Pakistan won by 89 runs (Pak 286/7; Aus 197)
8th Match: England v Canada at Manchester - Jun 13-14, 1979, England won by 8 wickets (with 46.1 overs remaining) (Can 45; Eng 46/2)
9th Match: India v Sri Lanka at Manchester - Jun 16-18, 1979, Sri Lanka won by 47 runs (SL 238/5; Ind 191)
10th Match: New Zealand v West Indies at Nottingham - Jun 16, 1979, West Indies won by 32 runs (WI 244/7; NZ 212/9)
11th Match: Australia v Canada at Birmingham - Jun 16, 1979, Australia won by 7 wickets (with 34 overs remaining) (Can 105; Aus 106/3)
12th Match: England v Pakistan at Leeds - Jun 16, 1979, England won by 14 runs (Eng 165/9; Pak 151)
1st Semi Final: England v New Zealand at Manchester - Jun 20, 1979, England won by 9 runs (Eng 221/8; NZ 212/9)
2nd Semi Final: Pakistan v West Indies at The Oval - Jun 20, 1979, West Indies won by 43 runs (WI 293/6; Pak 250)
Final: England v West Indies at Lord's - Jun 23, 1979, West Indies won by 92 runs (WI 286/9; Eng 194)