In the 1982 Asian Games, hosted by India, '
Appu
' the elephant was chosen as the mascot. History seems to be repeating itself with the 2011 ICC Cricket World Cup. After 29 years, the pachyderm has once again been chosen as the mascot, this time for the tenth ODI World Cup.
The elephant is blue in color and has a cricket ball for company. The mascot was unveiled to the world on April 2, 2010; at a function in Colombo, Sri Lanka (one of the co-hosts of the tournament). In the same function, the organizers of the ICC World Cup 2011 announced that the name of the mascot would be chosen in a contest in which cricket fans in the host nations would be able to participate.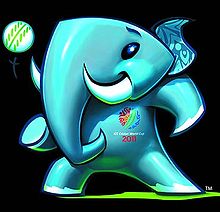 As per Ratnakar Shetty, the tournament director, the main idea behind this mascot is to amalgamate the feelings and action of the sport and the fans, giving them a graphic form. The blue pachyderm will represent the primitive attitude and emotion shared by cricket lovers across the world, especially when they witness something like the World Cup.
At the same time, it lays an emphasis on the passion and fervor in the youth, in general as well as in terms of cricket, particularly in the Indian continent. The mascot is also expected to create a friendly face for the ICC Cricket World Cup.