With the popularity of ICC Cricket World Cup increasing day by day, its ninth edition saw the participation increase to 16 teams. Apart from the ten full members of ICC, i.e. Australia, Bangladesh, England, India, New Zealand, Pakistan, South Africa, Sri Lanka, West Indies, and Zimbabwe, the contestants included ICC Trophy Qualifiers - Bermuda, Canada, Kenya, Ireland, Netherlands and Scotland. Following ICC's rotational policy, the tournament was played in West Indies (with this, it was held in the Caribbean for the first time). Though the number of teams increased from 2003 ODI World Cup, the number of matches came down to 51.
There was a change in the format, with the total number of teams being equally divided into four groups. The top two teams from each group went ahead to participate in the '
Super-8
'. The semi-finals were played between Australia, New Zealand, Sri Lanka and South Africa (the top teams in Super-8). Australia and Sri Lanka were the two teams that went ahead to play the final match, with the former winning by 53 runs. With this, Australia registered its fourth win in the ICC Cricket World Cup. Australian bowler Glenn McGrath was named '
Player of the Series
' (he claimed maximum wickets - 26).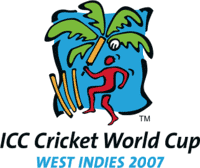 2007, ICC World Cup statistics
Administrator - International Cricket Council
Cricket format - One Day International
Tournament formats - Round robin and Knockout
Host - West Indies
Champions - Australia (4th title)
Participants - 16
Matches played - 51
Attendance - 672,000 (13,176 per match)
Most runs - Matthew Hayden (659)
Most wickets - Glenn McGrath (26)
Player of the series - Glenn McGrath (Australia)
Results Summary
First round
1st Match, Group D: West Indies v Pakistan at Kingston - Mar 13, 2007, West Indies won by 54 runs (WI 241/9; Pak 187)
2nd Match, Group A: Australia v Scotland at Basseterre - Mar 14, 2007, Australia won by 203 runs (Aus 334/6; Sco 131)
3rd Match, Group C: Canada v Kenya at Gros Islet - Mar 14, 2007, Kenya won by 7 wickets (with 6.4 overs remaining) (Can 199; Ken 203/3)
4th Match, Group B: Bermuda v Sri Lanka at Port of Spain - Mar 15, 2007, Sri Lanka won by 243 runs (SL 321/6; Ber 78)
5th Match, Group D: Ireland v Zimbabwe at Kingston - Mar 15, 2007, Match tied (Ire 221/9; Zim 221)
6th Match, Group C: England v New Zealand at Gros Islet - Mar 16, 2007, New Zealand won by 6 wickets (with 9 overs remaining) (Eng 209/7; NZ 210/4)
7th Match, Group A: Netherlands v South Africa at Basseterre - Mar 16, 2007, South Africa won by 221 runs (SA 353/3 in 40 ov); Net 132/9 in 40 ov)
8th Match, Group B: Bangladesh v India at Port of Spain - Mar 17, 2007, Bangladesh won by 5 wickets (with 1.3 overs remaining) (Ind 191; Ban 192/5)
9th Match, Group D: Ireland v Pakistan at Kingston - Mar 17, 2007, Ireland won by 3 wickets (with 5.2 overs remaining) (D/L method) (Pak 132; Ire 133/7)
10th Match, Group A: Australia v Netherlands at Basseterre - Mar 18, 2007, Australia won by 229 runs (Aus 358/5; Net 129)
11th Match, Group C: Canada v England at Gros Islet - Mar 18, 2007, England won by 51 runs (Eng 279/6; Can 228/7)
12th Match, Group B: Bermuda v India at Port of Spain - Mar 19, 2007, India won by 257 runs (Ind 413/5; Ber 156)
13th Match, Group D: West Indies v Zimbabwe at Kingston - Mar 19, 2007, West Indies won by 6 wickets (with 2.1 overs remaining) (Zim 202/5; WI 204/4)
14th Match, Group C: Kenya v New Zealand at Gros Islet - Mar 20, 2007, New Zealand won by 148 runs (NZ 331/7; Ken 183)
15th Match, Group A: Scotland v South Africa at Basseterre - Mar 20, 2007, South Africa won by 7 wickets (with 26.4 overs remaining) (Sco 186/8; SA 188/3)
16th Match, Group B: Bangladesh v Sri Lanka at Port of Spain - Mar 21, 2007, Sri Lanka won by 198 runs (D/L method) (SL 318/4; Ban 112 (37/46 ov)
17th Match, Group D: Pakistan v Zimbabwe at Kingston - Mar 21, 2007, Pakistan won by 93 runs (D/L method) (Pak 349; Zim 99 (19.1/20 ov)
18th Match, Group C: Canada v New Zealand at Gros Islet - Mar 22, 2007, New Zealand won by 114 runs (NZ 363/5; Can 249)
19th Match, Group A: Netherlands v Scotland at Basseterre - Mar 22, 2007, Netherlands won by 8 wickets (with 26.1 overs remaining) (Sco 136; Net 140/2)
20th Match, Group B: India v Sri Lanka at Port of Spain - Mar 23, 2007, Sri Lanka won by 69 runs (SL 254/6; Ind 185)
21st Match, Group D: West Indies v Ireland at Kingston - Mar 23, 2007, West Indies won by 8 wickets (with 9.5 overs remaining) (D/L method) (Ire 183/8 in (48/48 ov); WI 190/2 (38.1/48 ov)
22nd Match, Group A: Australia v South Africa at Basseterre - Mar 24, 2007, Australia won by 83 runs (Aus 377/6; SA 294)
23rd Match, Group C: England v Kenya at Gros Islet - Mar 24, 2007, England won by 7 wickets (with 10 overs remaining) (Ken 177 (43/43 ov); Eng 178/3 (33/43 ov)
24th Match, Group B: Bangladesh v Bermuda at Port of Spain - Mar 25, 2007, Bangladesh won by 7 wickets (with 3.3 overs remaining) (D/L method) (Ber 94/9 (21/21 ov); Ban 96/3 (17.3/21 ov)
Super Eights
25th Match: West Indies v Australia at North Sound - Mar 27-28, 2007, Australia won by 103 runs (Aus 322/6; WI 219)
26th Match: South Africa v Sri Lanka at Providence - Mar 28, 2007, South Africa won by 1 wicket (with 1.4 overs remaining) (SL 209; SA 212/9)
27th Match: West Indies v New Zealand at North Sound - Mar 29, 2007, New Zealand won by 7 wickets (with 10.4 remaining) (WI 177; NZ 179/3)
28th Match: England v Ireland at Providence - Mar 30, 2007, England won by 48 runs (Eng 266/7; Ire 218)
29th Match: Australia v Bangladesh at North Sound - Mar 31, 2007, Australia won by 10 wickets (with 8.1 overs remaining) (Ban 104/6 (22/22 ov); Aus 106/0 (13.5/22 ov)
30th Match: West Indies v Sri Lanka at Providence - Apr 1, 2007, Sri Lanka won by 113 runs (SL 303/5; WI 190)
31st Match: Bangladesh v New Zealand at North Sound - Apr 2, 2007, New Zealand won by 9 wickets (with 20.4 overs remaining) (Ban 174; NZ 178/1)
32nd Match: Ireland v South Africa at Providence - Apr 3, 2007, South Africa won by 7 wickets (with 3.3 overs remaining) (D/L method) (Ire 152/8 (35/35); South
Africa 165/3 (31.3/35 ov)
33rd Match: England v Sri Lanka at North Sound - Apr 4, 2007, Sri Lanka won by 2 runs (SL 235; Eng 233/8)
34th Match: Bangladesh v South Africa at Providence - Apr 7, 2007, Bangladesh won by 67 runs (Ban 251/8; SA 184)
35th Match: Australia v England at North Sound - Apr 8, 2007, Australia won by 7 wickets (with 2.4 overs remaining) (Eng 247; Aus 248/3)
36th Match: Ireland v New Zealand at Providence - Apr 9, 2007, New Zealand won by 129 runs (NZ 263/8; Ire 134)
37th Match: West Indies v South Africa at St George's - Apr 10, 2007, South Africa won by 67 runs (SA 356/4; WI 289/9)
38th Match: Bangladesh v England at Bridgetown - Apr 11, 2007, England won by 4 wickets (with 5.1 overs remaining) (Ban 143; Eng 147/6)
39th Match: New Zealand v Sri Lanka at St George's - Apr 12, 2007, Sri Lanka won by 6 wickets (with 4.5 overs remaining) (NZ 219/7; SL 222/4)
40th Match: Australia v Ireland at Bridgetown - Apr 13, 2007, Australia won by 9 wickets (with 37.4 overs remaining) (Ire 91; Aus 92/1)
41st Match: New Zealand v South Africa at St George's - Apr 14, 2007, New Zealand won by 5 wickets (with 1.4 overs remaining) (SA 193/7; NZ 196/5)
42nd Match: Bangladesh v Ireland at Bridgetown - Apr 15, 2007, Ireland won by 74 runs (Ire 243/7; Ban 169)
43rd Match: Australia v Sri Lanka at St George's - Apr 16, 2007, Australia won by 7 wickets (with 7.2 overs remaining) (SL 226; Aus 232/3)
44th Match: England v South Africa at Bridgetown - Apr 17, 2007, South Africa won by 9 wickets (with 30.4 overs remaining) (Eng 154; SA 157/1)
45th Match: Ireland v Sri Lanka at St George's - Apr 18, 2007, Sri Lanka won by 8 wickets (with 40 overs remaining) (Ire 77; SL 81/2)
46th Match: West Indies v Bangladesh at Bridgetown - Apr 19, 2007, West Indies won by 99 runs (WI 230/5; Ban 131)
47th Match: Australia v New Zealand at St George's - Apr 20, 2007, Australia won by 215 runs (Aus 348/6; NZ 133)
48th Match: West Indies v England at Bridgetown - Apr 21, 2007, England won by 1 wicket (with 1 ball remaining) (WI 300; Eng 301/9)
Knockout
1st Semi-Final: New Zealand v Sri Lanka at Kingston - Apr 24, 2007, Sri Lanka won by 81 runs (SL 289/5; NZ 208)
2nd Semi-Final: Australia v South Africa at Gros Islet - Apr 25, 2007, Australia won by 7 wickets (with 18.3 overs remaining) (SA 149; Aus 153/3)
Final: Australia v Sri Lanka at Bridgetown - Apr 28, 2007, Australia won by 53 runs (D/L method) (Aus 281/4 (38/38 ov); SL 215/8 (36/36 ov)