The tenth ICC Cricket World Cup is scheduled to be held in 2011, from February 19 to April 2; in India, Sri Lanka and Bangladesh. The fourteen teams that will participate in the tournament include Australia, Bangladesh, England, India, New Zealand, Pakistan, South Africa, Sri Lanka, West Indies, Zimbabwe, Ireland, Canada, Netherlands, and Kenya.
The logo for the tenth edition of the cricket tournament was unveiled in July 2009, at an official ceremony in Mumbai. As may as 12 companies from all over the world had submitted their concept, for the ICC World Cup 2011 logo.
From amongst the 12 concepts received by ICC, it was the one presented by Australian creative firm Witekite that got selected as the logo of 2011 ODI World Cup.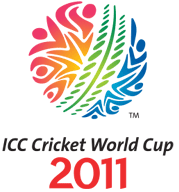 The logo is in the shape of a colorful cricket ball, designed in such a way that it represents the best things about the cricket in the sub-continent i.e. color, movement and action. Also forming the basis of the design is the idea of the supporters and players from the hosts of the tenth ICC Cricket World Cup - which is coming together with the rest of the world to create a special event.