The fifth ICC Cricket World Cup, also known as Benson & Hedges World Cup, saw Australia and New Zealand playing the hosts. It started on 22nd February 1992 and ended on 25th March 1992. A number of firsts have been attached with the fifth edition of the ODI tournament. For instance, it saw the introduction of colored clothing for the players, along with white balls and black sightscreens. Not only this, it was the first time that a number of matches were played under floodlights, rather than sunlight. The number of participating teams went up to nine, with the inclusion of South Africa (boycotted earlier) in the test-playing nations.
The first ODI World Cup to be held in the Southern Hemisphere, it also witnessed a complete Round Robin replacing the two qualifying groups that were present earlier. The participants included Australia, England, India, New Zealand, Pakistan, South Africa, Sri Lanka, West Indies, and Zimbabwe. Pakistan, the team that had initially won just one of its first five matches in the World Cup, turned the game later on and went ahead to win the final and claim the trophy, defeating England by 22 runs. In this tournament, for the first time, '
Man of the Series
' was awarded and it went to Martin Crowe from New Zealand.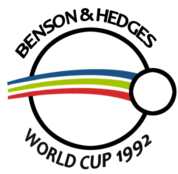 1992 Benson and Hedges World Cup statistics
Administrator - International Cricket Council
Cricket format - One Day International
Tournament formats - Round robin and Knockout
Hosts - Australia and New Zealand
Champions - Pakistan (1st title)
Participants - 9
Matches played - 39
Most runs - Martin Crowe (456)
Most wickets - Wasim Akram (18)
Player of the series - Martin Crowe (New Zealand)
Results Summary
1st Match: New Zealand v Australia at Auckland - Feb 22, 1992, New Zealand won by 37 runs (NZ 248/6; Aus 211)
2nd Match: England v India at Perth - Feb 22, 1992, England won by 9 runs (Eng 236/9; Ind 227)
3rd Match: Sri Lanka v Zimbabwe at New Plymouth - Feb 23, 1992, Sri Lanka won by 3 wickets (with 4 balls remaining) (Zim 312/4; SL 313/7)
4th Match: Pakistan v West Indies at Melbourne - Feb 23, 1992, West Indies won by 10 wickets (with 3.1 overs remaining) (Pak 220/2; WI 221/0)
5th Match: New Zealand v Sri Lanka at Hamilton - Feb 25, 1992, New Zealand won by 6 wickets (with 1.4 overs remaining) (SL 206/9; NZ 210/4)
6th Match: Australia v South Africa at Sydney - Feb 26, 1992, South Africa won by 9 wickets (with 2.1 overs remaining) (Aus 170/9 (49 ov); SA 171/1 (46.5)
7th Match: Pakistan v Zimbabwe at Hobart - Feb 27, 1992, Pakistan won by 53 runs (Pak 254/4; Zim 201/7)
8th Match: England v West Indies at Melbourne - Feb 27, 1992, England won by 6 wickets (with 10.1 overs remaining) (WI 157); Eng 160/4)
9th Match: India v Sri Lanka at Mackay - Feb 28, 1992, No result (Ind 1/0 (0.2/20 ov)
10th Match: New Zealand v South Africa at Auckland - Feb 29, 1992, New Zealand won by 7 wickets (with 15.3 overs remaining) (SA 190/7; NZ 191/3)
11th Match: West Indies v Zimbabwe at Brisbane - Feb 29, 1992, West Indies won by 75 runs (WI 264/8; Zim 189/7)
12th Match: Australia v India at Brisbane - Mar 1, 1992, Australia won by 1 run (revised target) (Aus 237/9; Ind 234 (47/47 ov)
13th Match: England v Pakistan at Adelaide - Mar 1, 1992, No result (Pak 74); Eng 24/1 (8/16 ov)
14th Match: South Africa v Sri Lanka at Wellington - Mar 2, 1992, Sri Lanka won by 3 wickets (with 1 ball remaining) (SA 195; SL 198/7)
15th Match: New Zealand v Zimbabwe at Napier - Mar 3, 1992, New Zealand won by 48 runs (revised target) (NZ 162/3 (20.5/20.5 ov); Zim 105/7 (18/18 ov)
16th Match: India v Pakistan at Sydney - Mar 4, 1992, India won by 43 runs (Ind 216/7 (49 ov); Pak 173)
17th Match: South Africa v West Indies at Christchurch - Mar 5, 1992, South Africa won by 64 runs (SA 200/8; WI 136)
18th Match: Australia v England at Sydney - Mar 5, 1992, England won by 8 wickets (with 9.1 overs remaining) (Aus 171; Eng 173/2)
19th Match: India v Zimbabwe at Hamilton - Mar 7, 1992, India won by 55 runs (revised target) (Ind 203/7 (32 ov); Zim 104/1 (19.1/19.1 ov)
20th Match: Australia v Sri Lanka at Adelaide - Mar 7, 1992, Australia won by 7 wickets (with 6 overs remaining) (SL 189/9; Aus 190/3)
21st Match: New Zealand v West Indies at Auckland - Mar 8, 1992, New Zealand won by 5 wickets (with 1.3 overs remaining) (WI 203/7; NZ 206/5)
22nd Match: Pakistan v South Africa at Brisbane - Mar 8, 1992, South Africa won by 20 runs (revised target) (SA 211/7; Pak 173/8 (36 ov)
23rd Match: England v Sri Lanka at Ballarat - Mar 9, 1992, England won by 106 runs (Eng 280/6; SL 174)
24th Match: India v West Indies at Wellington - Mar 10, 1992, West Indies won by 5 wickets (with 5.4 overs remaining) (revised target) (Ind 197; WI 195/5 (40.2 ov)
25th Match: South Africa v Zimbabwe at Canberra - Mar 10, 1992, South Africa won by 7 wickets (with 4.5 overs remaining) (Zim 163; SA 164/3)
26th Match: Australia v Pakistan at Perth - Mar 11, 1992, Pakistan won by 48 runs (Pak 220/9; Aus 172)
27th Match: New Zealand v India at Dunedin - Mar 12, 1992, New Zealand won by 4 wickets (with 2.5 overs remaining) (Ind 230/6; NZ 231/6)
28th Match: England v South Africa at Melbourne - Mar 12, 1992, England won by 3 wickets (with 1 ball remaining) (revised target) (SA 236/4; Eng 226/7 (40.5 ov)
29th Match: Sri Lanka v West Indies at Berri - Mar 13, 1992, West Indies won by 91 runs (WI 268/8; SL 177/9)
30th Match: Australia v Zimbabwe at Hobart - Mar 14, 1992, Australia won by 128 runs (Aus 265/6 (46/46 ov); Zim 137 (41.4/46 ov)
31st Match: New Zealand v England at Wellington - Mar 15, 1992, New Zealand won by 7 wickets (with 9.1 overs remaining) (Eng 200/8; NZ 201/3)
32nd Match: India v South Africa at Adelaide - Mar 15, 1992, South Africa won by 6 wickets (with 5 balls remaining) (Ind 180/6 (30/30 ov); SA 181/4 (29.1/30 ov)
33rd Match: Pakistan v Sri Lanka at Perth - Mar 15, 1992, Pakistan won by 4 wickets (with 5 balls remaining) (SL 212/6; Pak 216/6)
34th Match: New Zealand v Pakistan at Christchurch - Mar 18, 1992, Pakistan won by 7 wickets (with 5.2 overs remaining) (NZ 166; Pak 167/3)
35th Match: England v Zimbabwe at Albury - Mar 18, 1992, Zimbabwe won by 9 runs (Zim 134; Eng 125)
36th Match: Australia v West Indies at Melbourne - Mar 18, 1992, Australia won by 57 runs (Aus 216/6; WI 159)
1st Semi Final: New Zealand v Pakistan at Auckland - Mar 21, 1992, Pakistan won by 4 wickets (with 1 over remaining) (NZ 262/7; Pak 264/6)
2nd Semi Final: England v South Africa at Sydney - Mar 22, 1992, England won by 19 runs (revised target) (Eng 252/6 (45/45 ov); SA 232/6 (43/43 ov)
Final: England v Pakistan at Melbourne - Mar 25, 1992, Pakistan won by 22 runs (Pak 249/6; Eng 227)