ICC Cricket World Cup, counted amongst the premier tournaments in men's ODI cricket, made its debut in the year 1975. It was hosted by England and officially known as the Prudential Cup, since it was sponsored by the Prudential Assurance Company. The first edition of the International Cricket Council's (ICC) World Cup, it stretched from June 7 to June 21, with eight nations competing for the trophy. The eight teams included all the six test-playing nations of that time i.e. namely Australia, England, India, New Zealand, Pakistan, & West Indies, along with Sri Lanka and a composite team from East Africa.
The format of the first ICC World Cup comprised of preliminary matches, which were played in 2 groups, each of them with 4 teams. Each of the teams played with the other and the top two teams from each group proceeded to the knock-out round of semi-final. The winning teams then played against each other in the final match. Each of the matches comprised of 60 overs per team, with 6 balls in one over. The players wore traditional white clothing and played with red balls. In the tournament, all matches were played during the daytime.
The matches of first ODI World Cup were played in Lord's Cricket Ground (London), The Oval (London), Edgbaston Cricket Ground (Birmingham), Old Trafford Cricket Ground (Manchester), Trent Bridge (Nottingham) and Headingley Stadium (Leeds). The final match was played by Australia and West Indies, in which the latter emerged as the winner. There was no Man of Series in the tournament. It saw the maximum runs being taken by Glenn Turner (333) and the most number of wickets claimed by Gary Gilmour (11).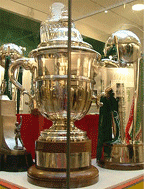 1975 Prudential World Cup statistics
Administrator - International Cricket Council
Cricket format - One Day International
Tournament formats - Round robin and Knockout
Host - England
Champions - West Indies (1st title)
Participants - 8
Matches played - 15
Attendance - 158,000 (10,533 per match)
Most runs - Glenn Turner (333)
Most wickets - Gary Gilmour (11)
Results Summary
1st Match: England v India at Lord's - Jun 7, 1975, England won by 202 runs (Eng 334/4; Ind 132/3)
2nd Match: East Africa v New Zealand at Birmingham - Jun 7, 1975, New Zealand won by 181 runs (NZ 309/5; EA 128/8)
3rd Match: Australia v Pakistan at Leeds - Jun 7, 1975, Australia won by 73 runs (Aus 278/7; Pak 205)
4th Match: Sri Lanka v West Indies at Manchester - Jun 7, 1975, West Indies won by 9 wickets (with 39.2 overs remaining) (SL 86; WI 87/1)
5th Match: England v New Zealand at Nottingham - Jun 11, 1975, England won by 80 runs (England 266/6; NZ 186)
6th Match: East Africa v India at Leeds - Jun 11, 1975, India won by 10 wickets (with 30.1 overs remaining) (EA 120; India 123/0)
7th Match: Australia v Sri Lanka at The Oval - Jun 11, 1975, Australia won by 52 runs (Aus 328/5; SL 276/4)
8th Match: Pakistan v West Indies at Birmingham - Jun 11, 1975, West Indies won by 1 wicket (with 2 balls remaining) (Pak 266/7; WI 267/9)
9th Match: England v East Africa at Birmingham - Jun 14, 1975, England won by 196 runs (Eng 290/5; EA 94)
10th Match: India v New Zealand at Manchester - Jun 14, 1975, New Zealand won by 4 wickets (with 1.1 overs remaining) (Ind 230; NZ 233/6)
11th Match: Australia v West Indies at The Oval - Jun 14, 1975, West Indies won by 7 wickets (with 84 balls remaining) (Aus 192; WI 195/3)
12th Match: Pakistan v Sri Lanka at Nottingham - Jun 14, 1975, Pakistan won by 192 runs (Pak 330/6; SL 138)
1st Semi Final: England v Australia at Leeds - Jun 18, 1975, Australia won by 4 wickets (with 31.2 overs remaining) (Eng 93; Aus 94/6)
2nd Semi Final: New Zealand v West Indies at The Oval - Jun 18, 1975, West Indies won by 5 wickets (with 19.5 overs remaining) (NZ 158; WI 159/5)
Final: Australia v West Indies at Lord's - Jun 21, 1975, West Indies won by 17 runs (WI 291/8; Aus 274)