The tenth ICC Cricket World Cup was played in India, Sri Lanka, and Bangladesh, from 19th February to 2nd April 2011. It was be the first time the tournament in being co-hosted by Bangladesh. The World Cup was also due to be co-hosted by Pakistan, but in the wake of the 2009 attack on the Sri Lanka national cricket team in Lahore, the International Cricket Council (ICC) decided to remove Pakistan from the hosting countries.
ODI World Cup 2011 was a revised format, with 14 participants instead of 16. All matches in the World Cup were accorded One Day International status, with all matches being played over 50 overs. Fourteen national cricket teams competed in the tournament, including ten full members Australia, Bangladesh, England, India, New Zealand, Pakistan, South Africa, Sri Lanka, West Indies, Zimbabwe and four associate members Ireland, Canada, Netherlands, and Kenya. The teams was divided into 2 groups, with 7 teams in each.
India won the tournament defeating Sri Lanka by 6 wickets in the final. India became the first nation to win a World Cup final on home soil. India's Yuvraj Singh was declared the man of the tournament. The winner of the 2011 Cricket World Cup would be awarded with prize money amounting to US$ 4 million.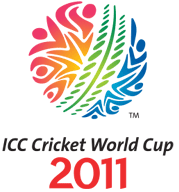 Australia, rebuilding their team, missed the final for the first time since 1992 as India and Sri Lanka met in the decider, pitting Sachin Tendulkar against Muttiah Muralitharan.
Mahela Jayawardene scored an unbeaten 103 in Sri Lanka's challenging 274-6 but India recovered from a slow start to win by six wickets with 10 balls to spare with Gautam Gambhir making 97 and India's captain Mahendra Singh Dhoni an unbeaten 91.
2011 ICC World Cup statistics
Administrator - International Cricket Council
Cricket format - One Day International
Tournament formats - Round robin and Knockout
Hosts - India, Sri Lanka and Bangladesh
Champions - India (2nd tille)
Participants - 14 (from 104 entrants)
Matches played - 49
Man of the Series - Yuvraj Singh (India)
Most runs - Tillakaratne Dilshan (500)
Most wickets - Shahid Afridi (21) and Zaheer Khan (21)